Incompass Michigan, the statewide network of mission driven organizations promoting community access and inclusion for people with disabilities and other barriers, presented its 48th Leadership Conference June 8-10 at the Delamar Hotel in Traverse City. This was the first in-person conference since 2019 and the DAR team was pleased not only to welcome this highly anticipated, three-day conference to the Traverse City community, but honored to have partner and owner of Danbrook Adams Raymond PLC, Lindsay Raymond featured as a presenting speaker.
Experienced employment law attorney and business owner, Raymond presented the 2022 Employment Law Update. She discussed recent updates to employment laws and practices governing the workplace, including accommodations, remote and hybrid work policies and issues, workplace culture assessments, best practices for performance management, considerations for attracting and retaining workers, and more.As an experienced management-side labor and employment attorney, she represents employers in all aspects of employment litigation, arbitration, and matters governing the workplace.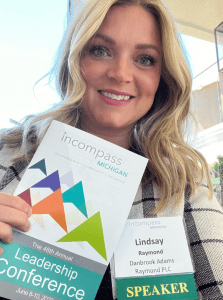 "I had such a great time today presenting the 2022 Employment Law Update at the Incompass Michigan Leadership Conference in Traverse City," shared Raymond.  "I have attended this event for many years and the crowd is always inspiring. The year's conference was filled with fun and learning! Plus I'm passionate about inclusion and empowering employers to be their best selves."
Additional presentations featured topics ranging from addressing internal response to the COVID-19 pandemic and how we can help ourselves and others manage their own stress-related feelings, learning and adopting emotional agility to help us become more resilient and connected leaders, a MDHHS Update, the challenges and impact of social enterprise models, and the unique features of a community facing social enterprise, and effective inclusive leadership and change management strategies to help you meet the ongoing challenges we face in continuing challenging times.
Incompass Michigan members help thousands of residents all across Michigan to live, work, and play in the community. This was the 48th Leadership Conference and the first in-person event since 2019. Attendees gathered to celebrate their drives knowledge and best practice and to gain understanding of effective strategies to support individuals and families with a broad range of barriers, as well as nurture and encourage each other.
Todd Culver, President and CEO of Incompass Michigan shared his excitement, "We have an excellent program, with great networking opportunities, and an experience we hope connects you directly with the value of being a part of our association."
Lindsay Raymond is an experienced employment law attorney and business owner. You can reach her at lraymond@darlawyers.com.