Boutique Law Firm Kicks Off Year Five with A New Location
This month, Danbrook Adams Raymond PLC, DAR Law, celebrates its five-year anniversary of bringing peace of mind to individuals, families, and businesses in Northern Michigan in their practice areas of Employment and Labor Law, Employer Defense and Litigation, Liquor Licensing and Regulation, and Estate Planning and Administration.
After practicing for years in larger firms, DAR's three attorney owners, Cortney Danbrook, Janis Adams, and Lindsay Raymond, decided their clients deserved more.
"Five years ago, we opened a boutique law firm specifically designed to offer clients the legal experience and skill they would expect from a large firm, but with a down-to-earth, authentic, and personal touch," shared Cortney Danbrook, DAR partner who specializes in providing advice and counsel to businesses, individuals, and families in the areas of estate planning and administration, liquor licensing and regulatory compliance.
Women of DAR Law Knew their Approach, Experience, and Skill Would Set Them Apart
"We are honored to stand out, not only because we are a women-owned law firm, but also because we have years of experience (55 years combined) in highly focused areas of the law," said Janis Adams, employment, and labor law partner at DAR. "We're proud and humbled to be 'THE' legal resource in our practice areas."
The boutique law firm is celebrating this anniversary milestone with a new office location as well. With the goal to better serve its clients, DAR has moved to a new office located at 625 Second Street (Second and Division). The new location features ample and easily accessible private parking on-site, as well as a larger and more welcoming space to counsel and collaborate with their clients.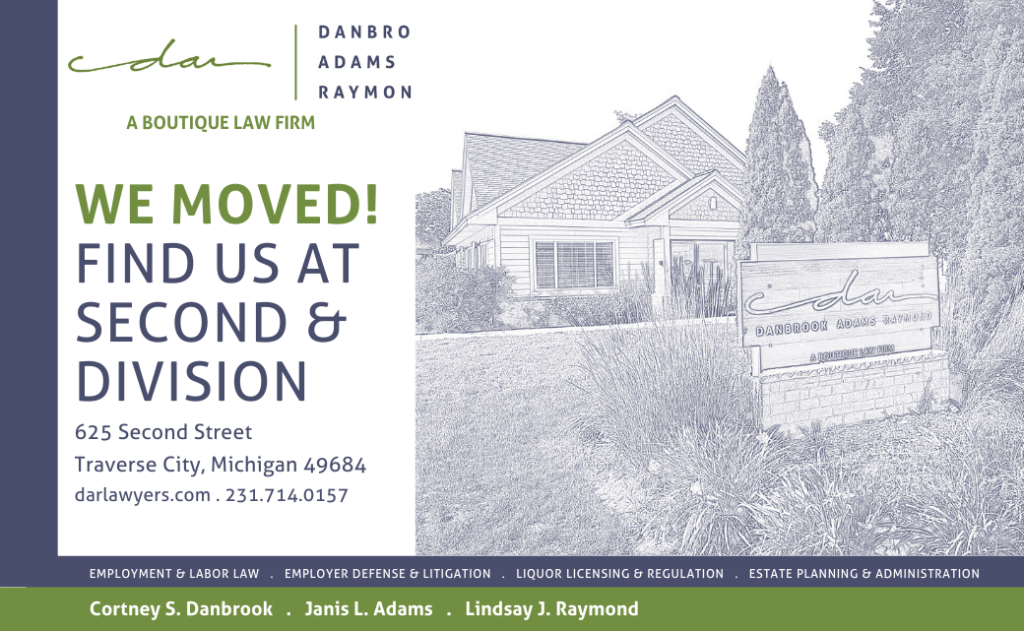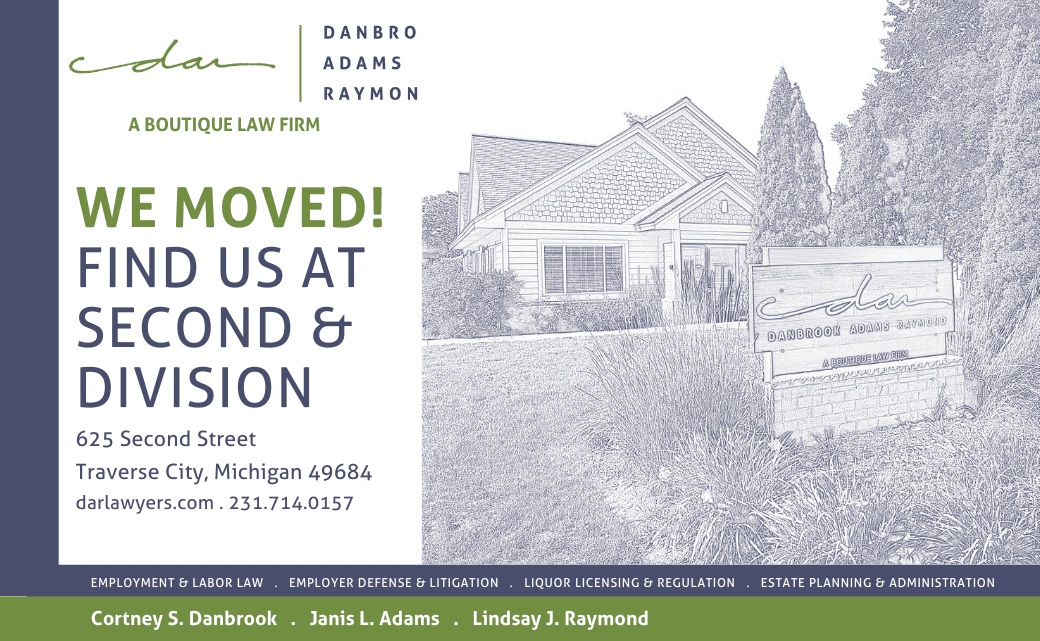 "We're excited about our growth and look forward to serving and expanding our client-base in this new space," said Lindsay Raymond, employment, and labor law partner at DAR.
Your Legal Resource for Peace of Mind
DAR Law extends a special note of gratitude to their legal assistant, professional advisors, and service providers for all their support, and their clients who have allowed them to stand by their side, guide them with their legal issues, and advocate on their behalf for the last five years.
"As business owners, we know the importance of a great team and community. We cannot thank you all enough for embracing us and continuing to trust us to be your legal resource for peace of mind."
Learn more at darlawyers.com or call 231.714.0157 to set up an appointment.